OSAKA GEIHINKAN
Former Guest House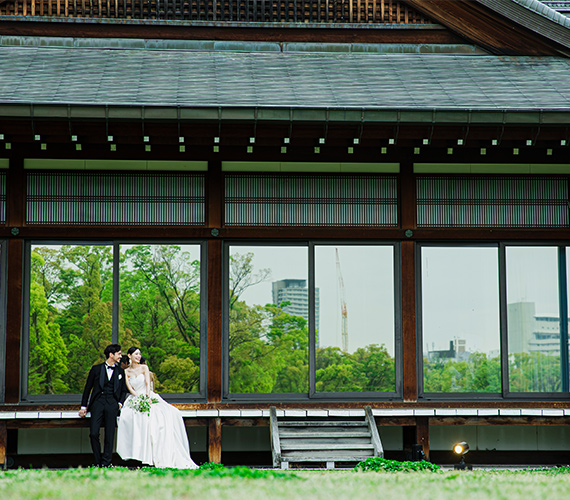 OSAKA GEIHINKAN Former Guest House was built as a State Guest House to welcome foreign dignitaries from countries all over the world during "APEC 1995". It was chosen as the dinner venue for the G20 Osaka Summit held in 2019, as a space that could help showcase and spread the culture, art, and food that Japan has to offer to the rest of the world. During this event, cultural functions and dinner were enjoyed here and there also were commemorative photos takes with Osaka Castle in the background. Located in the city center, this venue provides a sense of openness that is hard to come by in such a central location. It is a genuine Guest House that embodies both dignity and comfort making it a truly worthy space for honorable guests. The Koraimon Gate (1-minute walk from the venue) is specially opened for those using this venue as a banquet hall, making it easily accessible even for guests arriving on a bus or taxi.
Osaka Geihinkan is located in the grounds of Osaka Castle, which has a history of more than 400 years. This place has always been a symbol of authority. Such as headquarters of Shogun in the past, and recently a venue of a conference among global political and economic leaders. It is now open to the public as a restaurant where you can enjoy some excellent food.
A sanctuary away from the hustle and bustle of the city.
Though it is located in Osaka, one of the busiest business district in Japan, our hall is away from that noise. Situated in a grove of the castle grounds, the hall is enclosed with 300 cherry trees and many other species.
Once you stand in front of the main window, a 65,000m² garden with well treated lawn spread out before you. The garden is even chosen as one of the best places in Osaka to enjoy cherry blossoms in spring, and beautiful colored leaves in autumn.